JPMorgan Chase Redesign Work
DEFINING THE PROBLEM
JPMorgan Chase was looking to consolidate all of their digital work with one Digital Marketing Agency. I was working for McGarryBowen upon several projects including the Chase Freedom card account. We were tasked with building a comprehensive pitch to win the entire JPMorgan Chase account.
BACKGROUND
In July of 2013, I joined the McGarryBowen Experience Design team for a three month project to work upon the JPMorgan Chase account. Along with gearing up for a major pitch presentation to win the entire JPMorgan Chase account, McGarryBowen was tasked with maintain and building out several smaller pieces of the business including the Chase Freedom card.
MY ROLE
I was tasked with optimizing the desktop and mobile user experience on several Chase.com online sites. Additionally my responsibilities included wireframing, leading whiteboarding sessions, conducting research, building competitive analysis documents, developing concepts, and presenting findings to the team.
DIRECTION
As part of a diverse team made up of User Experience Designers, Visual Designers, Copywriters, Account and Strategy members, our goal was to develop, build, and deliver a comprehensive pitch to the JPMorgan Chase team, as well as maintain our existing account for the Chase Freedom card website.
THE SOLUTION
Our team at McGarryBowen worked hard to put together our pitch to JPMorgan Chase, while also continuing our work on the Chase Freedom card account. Selected previews are listed below.
1. CHASE FREEDOM
My first task was to help optimize the overall desktop & mobile user experience on the Chase.com/Freedom website. The primary navigation was simplified. The consumer value proposition was better explained with contextual examples along with providing easier ways for users to earn cash back. The mobile experience was simplified with emphasis placed upon facilitating the core actions of applying for a new card and activating for the quarterly benefits.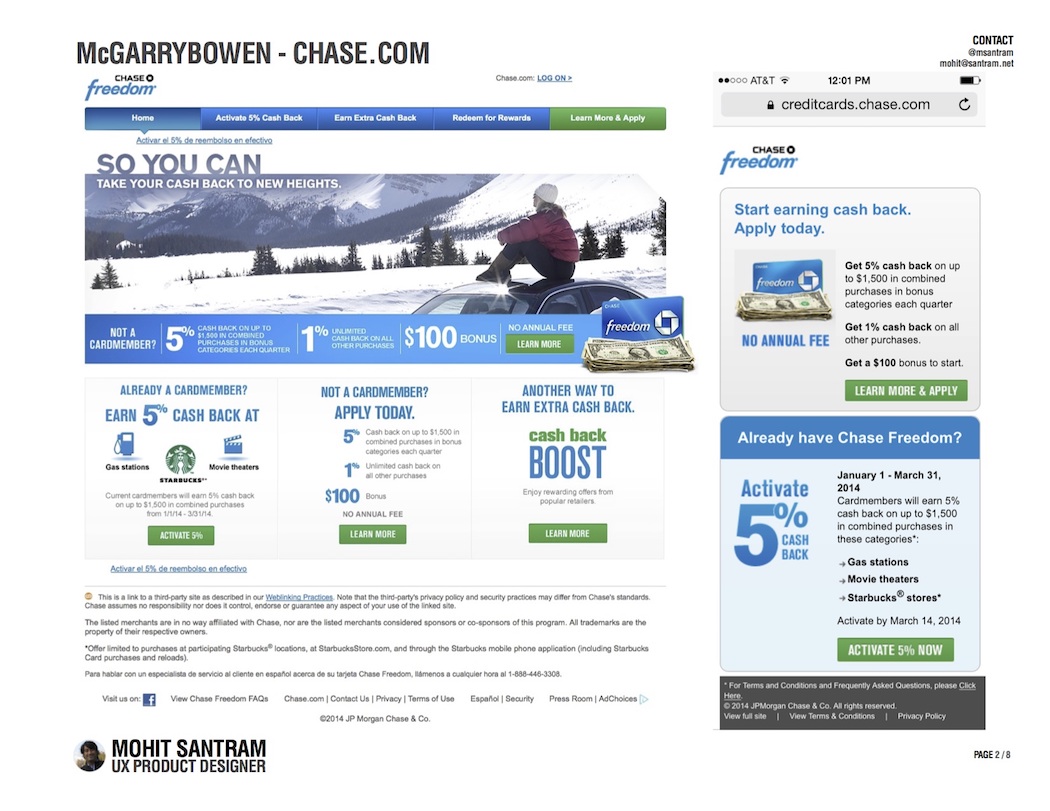 2. 5% CASH BACK
Activating for quarterly cash back benefits was simplified within this desktop experience. Once a user has validated their card, optionally signed up for text or email reminders, they are presented with additional ways to increase their cash back bonuses. Our goal was to simplify the process and remove stumbling points for users using metrics data and specific user feedback.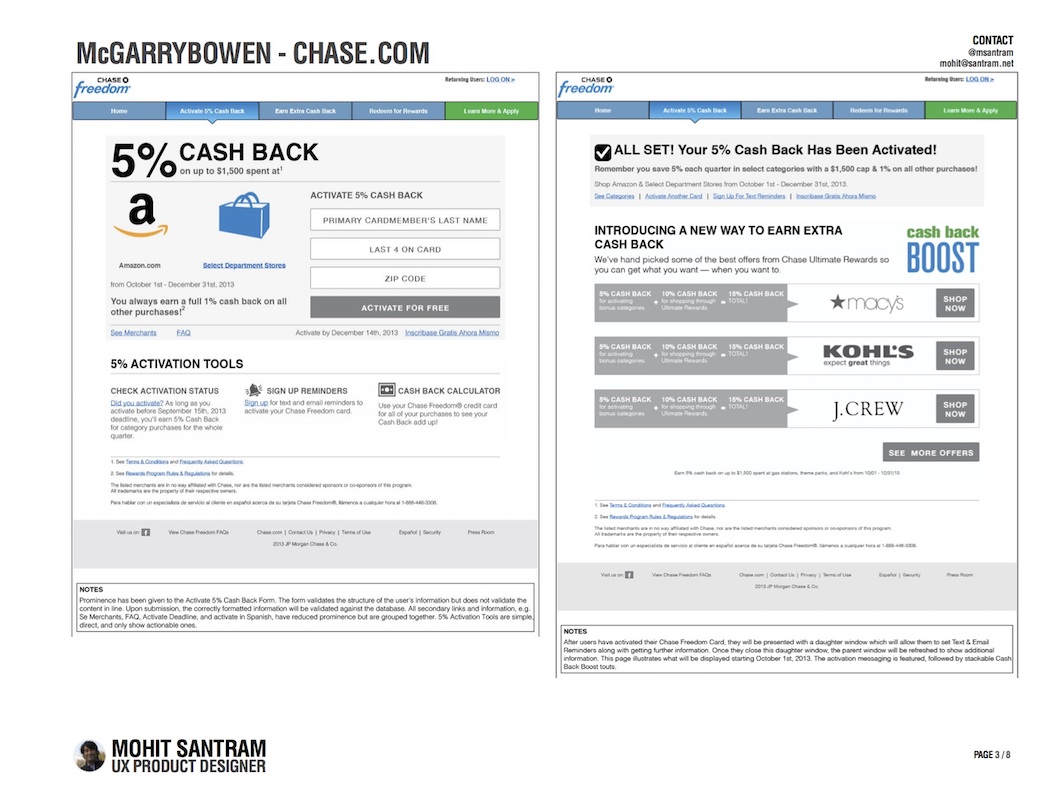 3. EXPERIENCE MAP – MAPPING EMOTIONS
Experience Maps can be highly effective with understanding the complexities of user's emotions, motivations, pain points, and innovation opportunities. As a collective Experience Design team, we built several Experience Maps for many of of the JPMorgan Chase products & verticals. I built this Experience Map as well as the following map.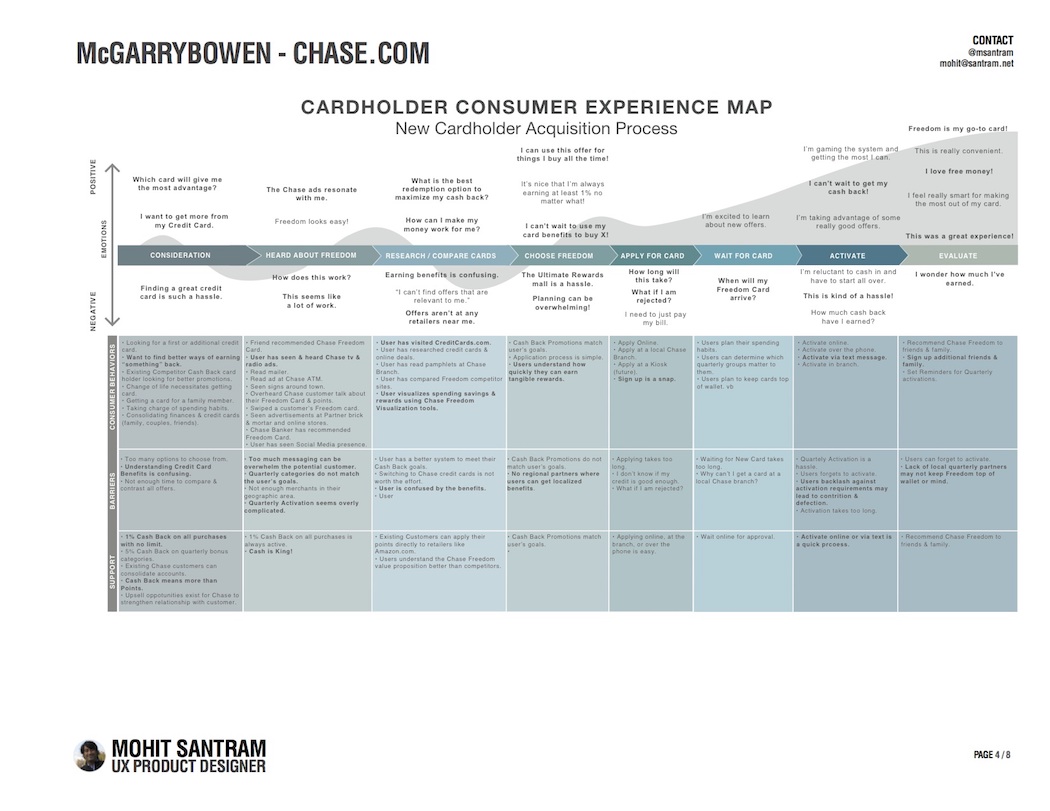 4. EXPERIENCE MAP – IDENTIFYING OPPORTUNITIES
This User Experience Map was built to identify new customer acquisition opportunities for the Chase Freedom card.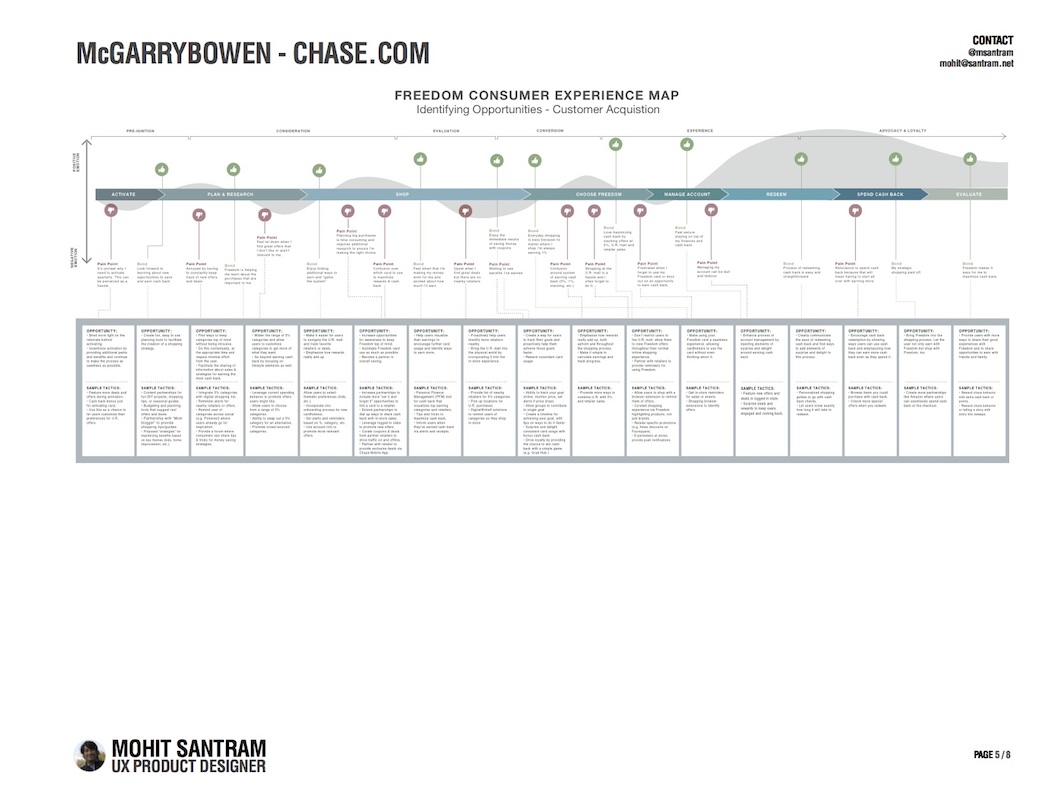 5. COMPETITIVE ANALYSIS
I conducted research into the banking, investing, and payments marketplace and compiled this Competitive Analysis with two team members to help guide the entire team through idea generation, scenarios, and concepts. This document is featured below as a UX download.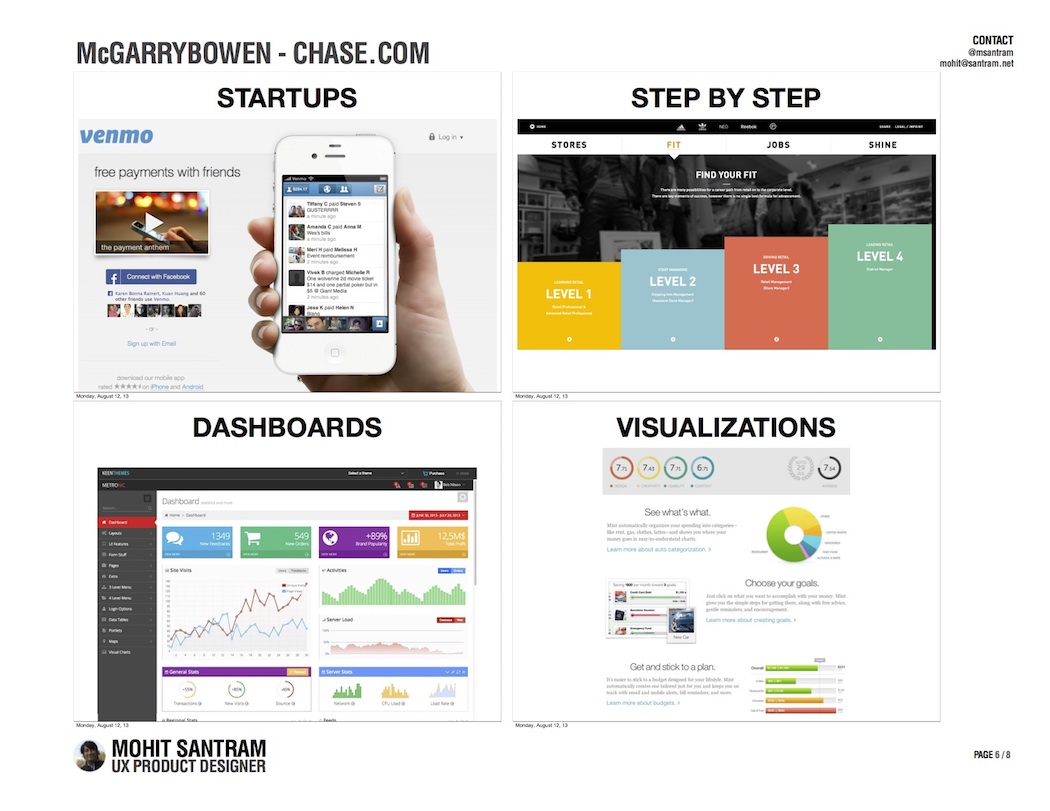 6. UX STRATEGY
This UX Strategy document was presented to the entire pitch team to showcase several opportunities within the Chase Freedom quarterly bonus categories. Based upon user research and analysis of user metrics, I worked with another designer to compile our UX Strategy recommendations. My goal was to help other pitch team members understand and identify opportunities for improvement.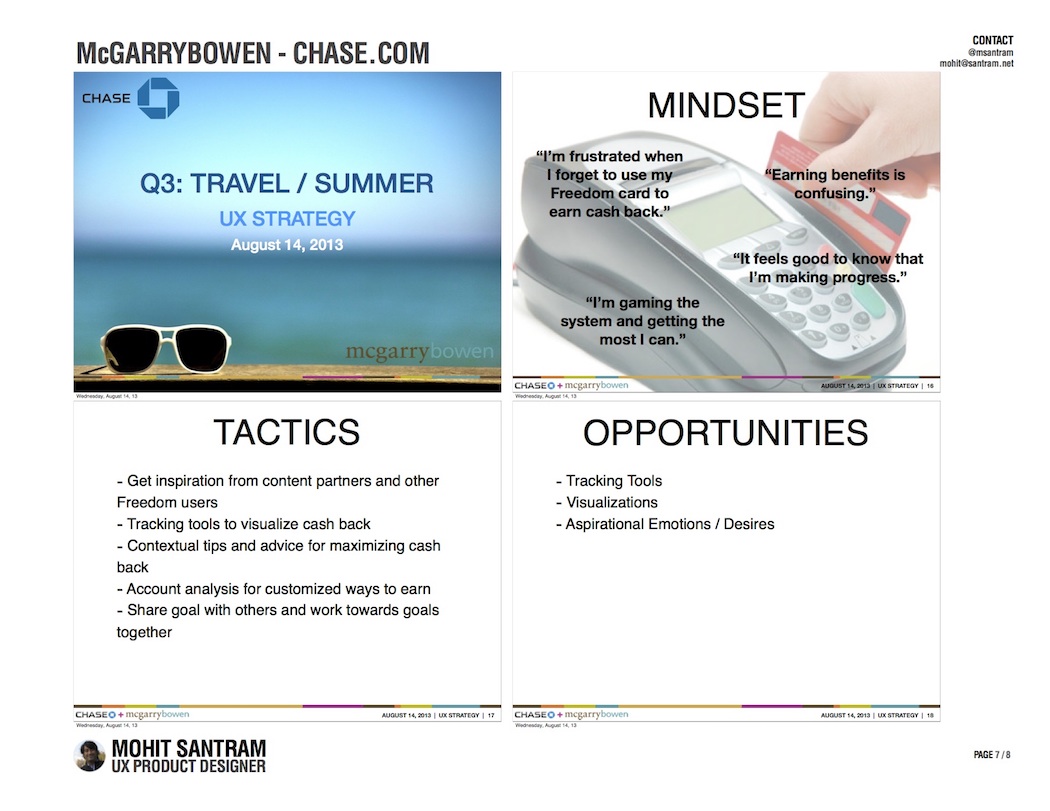 7. TISSUE SESSIONS
Working through this project I learned a great deal about Chase, their customers, and opportunities to improve even the smallest customer experience. We collectively participated within Tissue Sessions to isolate ideas, areas of improvement, and k. This Tissue Session sketch illustrates my preferred user flow.