CRNY: A story about a Cavaletti and a website.
DEFINING THE PROBLEMS
Canine Rehab of New York wanted to build a simple website that highlighted their pet rehabilitation facility, described their services in detail, introduced site visitors to their staff, and allowed prospective customers register to become new patients. They also needed a website that they could easily update themselves. Additionally, they needed help to design and develop an apparatus for physical rehabilitation therapy.
BACKGROUND
Canine Rehab of New York is a canine rehab facility located in the Upper West Side of Manhattan. As an off shoot of Gotham Veterinary Center, Canine Rehab of New York wanted to build a website showcasing the benefits of pet rehabilitation. Increasing the quality of lives for pets and their owners was paramount to founder Dr. Bonnie Brown. My goal was to help them design and build a simple, yet attractive website that would enable them to easily update their site content as needed. As an owner of a couple of Golden Retrievers, one of whom just happens to be a patient, I knew the benefits of rehabilitation well along with having an established relationship with Dr. Brown and her energetic staff.
MY ROLE
After assessing all of their needs, I worked with CRNY's staff including Dr. Brown, Jennifer Franchetti, and Dwight Edwards to design and develop their new website, update their logo and branding, define a social media strategy, train their staff, and provide technical support as needed. I also designed and built a wooden Cavaletti, which is essentially an inverted ladder with removable rungs, for their staff to use with patients during agility exercises.
THE PROCESS
As always, my design process began with information gathering consisting of understanding their needs, assessing what materials they had, and what sites they found inspiring. They had a rough idea of the overall message they wanted on their website along some content in outline form. Working together with Jennifer Franchetti and Dr. Bonnie Brown, I focused the content into four main content areas: Who We Help, How We Help, Who We Are, and What Clients say. I also created additional pages to allow current and prospective customers to Contact the team, Register a patient, find Resources, and to view CRNY Press clippings.
INFORMATION GATHERING
After my initial discussions with the CRNY team, I asked them to help me identify sites, images, and styles that they liked. It was important for me to help them define and establish a visual style for which we could build the new site. Using these initial examples, I showcased a Competitive Analysis of Veterinary websites, Rehab facilities, pet training companies, and boarding facilities that had varying takes on the design and layout of the site. I discussed the importance of thinking about mobile first, then the tablet and desktop experience. Along with these recommendations, we made an actionable plan for the design and development processes.
DESIGN TASKS
Using what we had learned, I sketched out a Sitemap based on the refined content. I hired a photographer take several photographs along with augmenting our image repository with images taken the staff, a few patients, and myself. While the client initially wanted to use stock photography, I stressed the importance of using actual photographs of the CRNY facility, team, and patients. Allowing prospective patients to imagine their pet and themselves at CRNY.
DEVELOPMENT
Since the site is very simple, I went straight from the Sitemap sketch to developing the site within WordPress. I registered and set up the domain on the hosting company's website. Then I created a temporary holding page, whilst I built the site within a staging environment. To keep my development costs low, I used a pre-built WordPress theme to serve as the foundation of the site. Creating Child themes within WordPress allows one to customize a theme, without modifying the parent theme. This process would allow the CRNY team and myself to easily apply any theme or WordPress updates without impacting the code, CSS, and option modifications that I made.
PAIN POINTS
The new patient registration process had previously been done on paper, with the transcription left to the staff to complete before the patient could be seen. The CRNY team was legally bound from seeing any patient until all pet and owner personal information, proof of vaccination records, and consent were all reviewed by Dr. Brown. This friction point was a bottleneck that Dr. Brown wanted to change. I created a simple form for prospective patients to complete before their first visit. Now the CRNY staff would review the registration information with Dr. Brown before the patient would come for their first visit with Dr. Brown and the CRNY staff. This not only saved time, but set clear expectations to users during a potentially stressful first visit.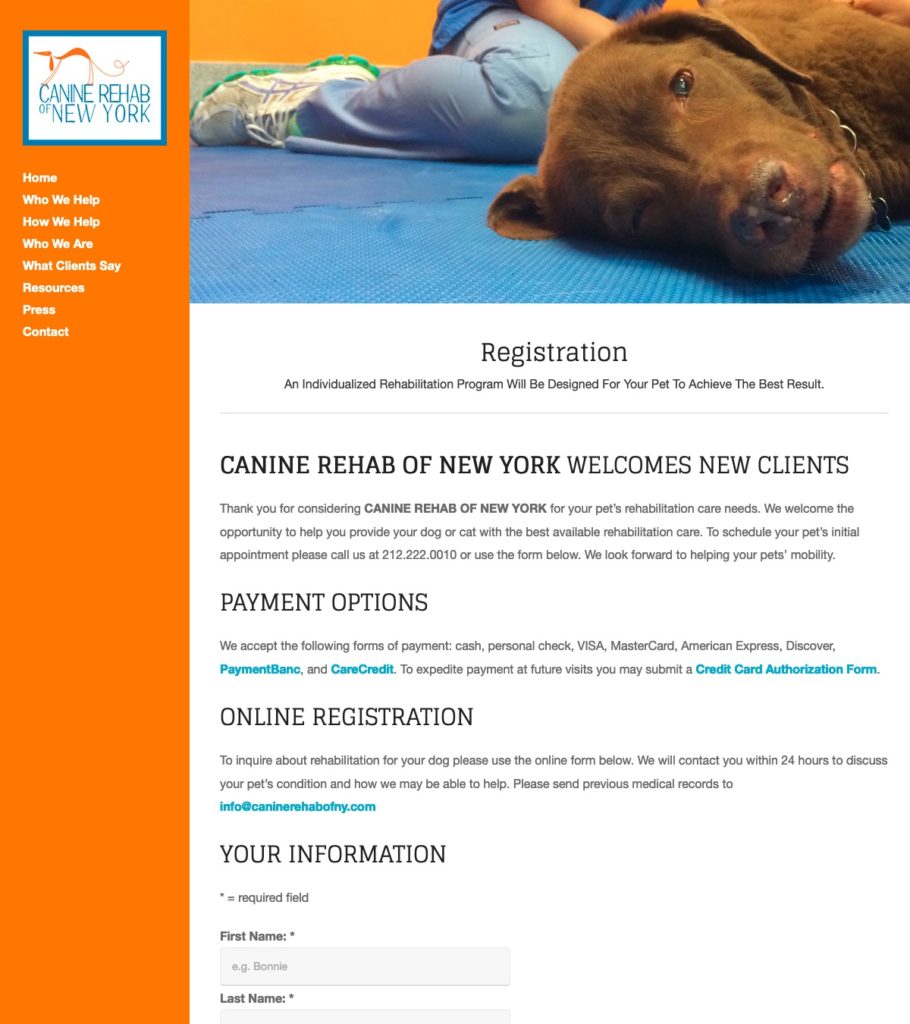 DEPLOYMENT
Deploying a website from a staging environment to a production environment on most WordPress hosting companies is relatively straightforward process. During the development process, the CRNY team was able to observe my progress along with being able to upload images, make content tweaks, and ask for additional features if they decided. As I was concurrently developing a website for their veterinary practice, it was important for them to see and use components of the website before it was launched.
THE SOLUTION
The CRNY website was launched soon after Dr. Brown approved of the build. Prospective customers were now able to learn about the services and practice, locate the rehab facility, and sign up as new patients. CRNY staff were able to review these digital registration forms, converse with clients, and make new and recurring appointments. Over the course of a few months, we were able to make content tweaks, update photos, and monitor site traffic. Additionally Mobile and Tablet users navigated the responsive website with ease, which allowed users to easily give feedback whilst their pet was at the facility.
THE SOLUTION
Selected previews are displayed below.
CAVALETTI
Traditionally, a Cavaletti is a wooden jump that horse trainers typically use to improve the agility, balance, coordination, and musculoskeletal strength of their horses. Dog trainers and rehab facilities use smaller obstacles to help train and rehab canines. Dr. Brown and the CRNY team had been using an inferior plastic setup that was prone to falling down during use, problematic, and poorly made. After using a colleague's hand built Cavaletti in Northern California, Dr. Brown commissioned me to design and build a Cavaletti for CRNY.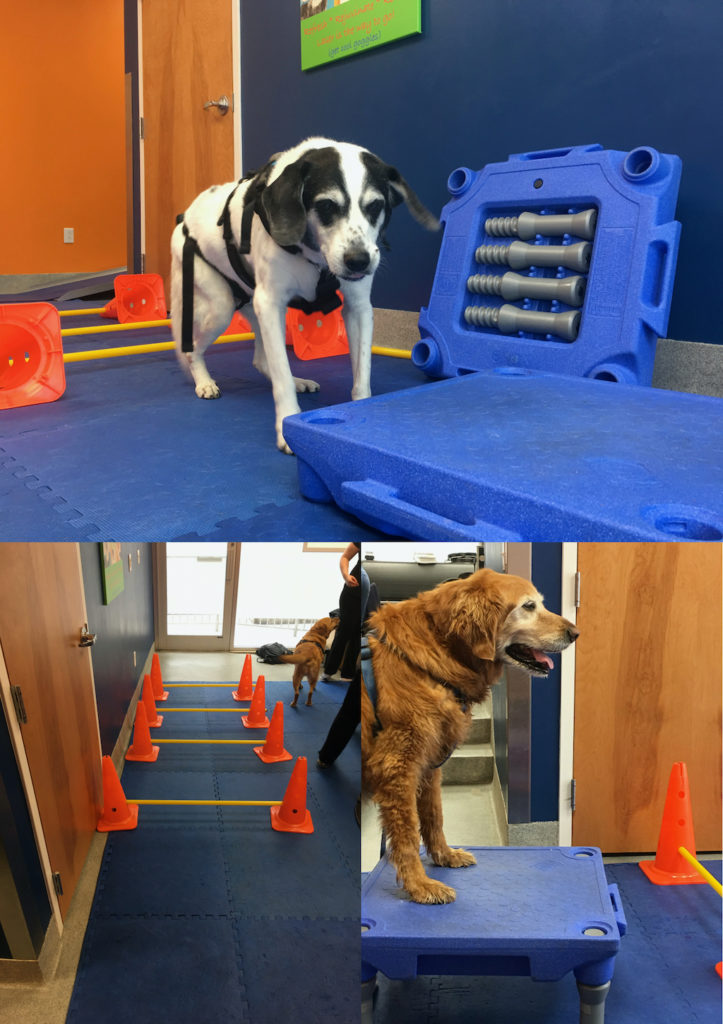 PRODUCT RESEARCH
I spoke extensively with Dr. Brown and the rehab facility in Northern California, along with researching existing products and self made implementations online. I visited a horse farm to see larger versions in use, along with breaking down where the current product was failing. I then sketched out several iterations to help design a prototype which I constructed from two by fours, PVC tubing, adjustable wooden legs, and hardware.
PROTOTYPE DESIGN
As with designing digital products, I conducted my own User Testing by walking my dog Louie through the Cavaletti. I was able to determine the break points, design flaws, and improvements to make. I quickly learned that the entire apparatus was top-heavy and awkward, and the colored rungs were too thick and distracting, and difficult for one person to setup. This initial prototype, much like digital designs, needed to be used and reviewed by the client. We noted how the device was maneuvered, used, and stored within the CRNY facility. Storage space is a premium, which became more obvious after attempting to use the Cavaletti with a few other clients.
PRODUCT DELIVERY
After several improvement tweaks, I constructed version two of the prototype. Version two was made with lighter two by fours, smaller PVC rungs and caps, and galvanized steel. After completing production and testing, I again successfully tested the Cavaletti with Louie and a few friends. The Cavaletti was delivered in June, 2019 and has been in daily use ever since.