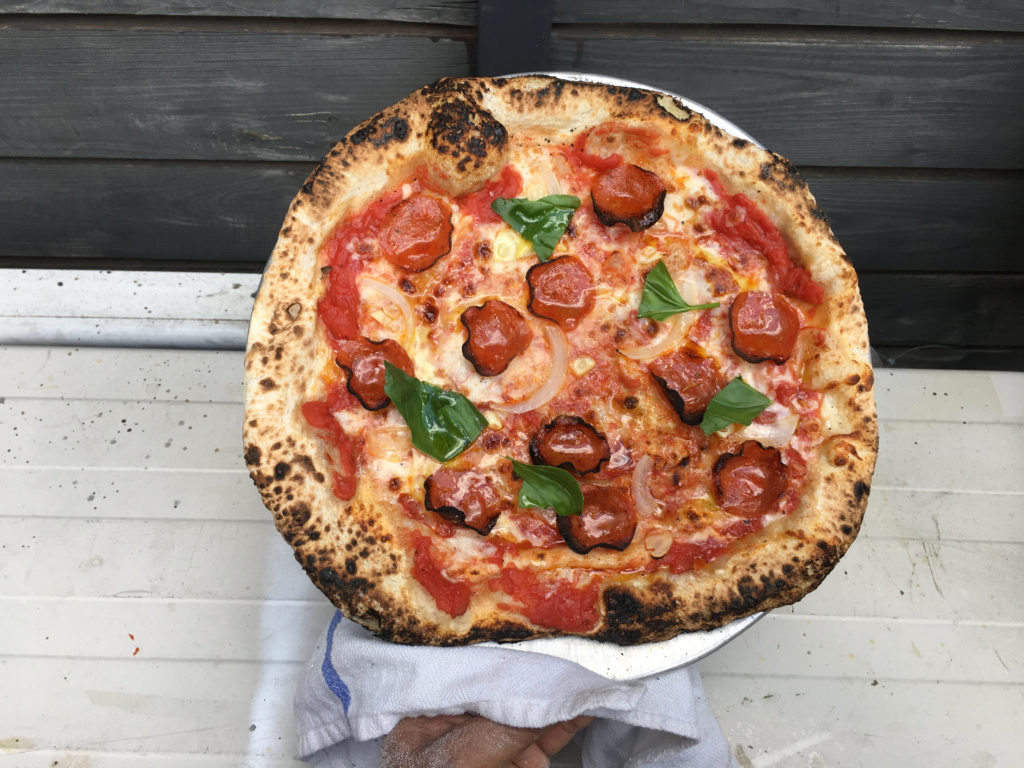 Pizza Pizza
Making and eating Neapolitan Style Pizza with friends and family is a wonderful thing in life. After moonlighting at Paulie Gee's and Paulie Gee's Slice Shop in Greenpoint, Brooklyn for the last four plus years, I have learned a bit about making great pizza.

The following list of products that I love and use to make pizza at home. This is a growing list that may change over time and availability. If you purchase via the sponsored links, then I can buy more a little more flour to make more pies. Have fun!
Oven Selection
There are many great outdoor ovens on the market, I chose the Ooni Karu. An extremely portable oven that allows you to use charcoal, gas, or wood. The Ooni Karu sets up in two minutes and can get to cooking temperature in about fifteen minutes.
Ooni.com 10% Off Referral Codes
If you are ready to buy and Ooni oven or supplies, you can save 10% with either of these referral codes which are good until September 24th, 2020:
http://ooni.refr.cc/mohits
https://go.referralcandy.com/share/7XDPWSB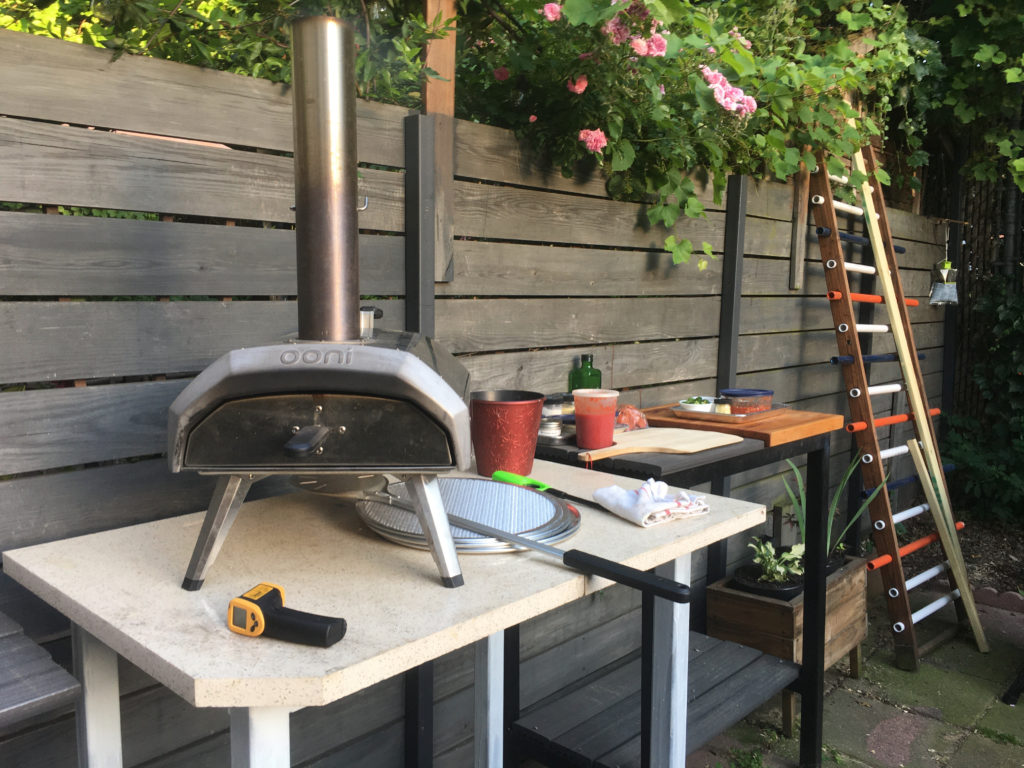 Ooni Oven Supplies
Ooni Karu
https://ooni.com/products/ooni-karu
I love my Ooni Karu for its portability , easy set up, and most importantly the ability to quickly cook Neapolitan style wood fired pizzas at home.
https://ooni.com/products/ooni-karu
Ooni Gas Burner
https://ooni.com/collections/accessories/products/ooni-gas-burner
The Ooni Karu is a great oven, particularly for the portability and quick set up. If you are traveling, cooking with wood pellets is easy. Though if your Ooni is often stationary, cooking pizzas with the Gas Burner will give you an even temperature to let you focus on making great pizza.
https://ooni.com/collections/accessories/products/ooni-gas-burner
Ooni Bamboo Pizza Peel
https://amzn.to/2AzDOcq
A twelve inch pizza peel that will hold up to launching pies into your Ooni better than a wooden peel. I place stretched dough on a layer of semolina flour on this peel. I top the pie, and use this peel to gently launch the pie into my oven. A single, yet important use.
https://amzn.to/2AzDOcq
Ooni Turning Peel
https://ooni.com/collections/accessories/products/ooni-pizza-turning-peel
The Ooni turning peel is perfect to rotate, turn, and maneuver pies. Once you have launched a pie into your at temperature oven, you will need to turn it to cook evenly. Using a Perforated Peel is okay, though the control you get is better with the nimbler Turning Peel.
https://ooni.com/collections/accessories/products/ooni-pizza-turning-peel
Ooni Dual-Sided Grizzler Plate
https://amzn.to/2YNDI9l
This cast iron Ooni Grizzler Plate easily slides into your Ooni on top of the baking stone. The cast iron handles allow you to easily pick up, position, and move the Grizzler Plate in and out of the oven. The wooden serving board allows you put the Grizzler Plate directly on a table for your guests. The flat side is great as a griddle while the ribbed side produces great sear marks.
https://amzn.to/2YNDI9l
Ooni Karu Carry Cover
https://ooni.com/collections/accessories/products/ooni-karu-carry-cover
A well made cover that can be used to protect your Ooni outdoors and/or use to transport your oven on pizza adventures.
https://ooni.com/collections/accessories/products/ooni-karu-carry-cover
Ooni 12″ Perforated Peel
https://ooni.com/collections/accessories/products/ooni-12-perforated-pizza-peel
The 12″ Perforated Peels are also good for dressing and launching your pies into the oven, though not the best for turning pies.
https://ooni.com/collections/accessories/products/ooni-12-perforated-pizza-peel
Ooni Hardwood Pellets
https://ooni.com/collections/accessories/products/premium-wood-pellets-100-american-oak
While you can burn most untreated hardwoods in your Ooni, this bag of pellets is a great starter. Certainly not the cheapest, though once you are comfortable buying dried untreated hardwoods, these pellets are easy to use.
https://ooni.com/collections/accessories/products/premium-wood-pellets-100-american-oak
Amazon Supplies
Infrared Thermometer:
https://amzn.to/2YNDI9l
This is the Etekcity Lasergrip 1080 Non-Contact Digital Laser Infrared Thermometer Temperature Gun. It measures temperatures between -58℉~1022℉ (-50℃~550℃) and comes in Yellow and Black. Great tool that allows me to monitor measure temperature in various spots in my oven and pies.
https://amzn.to/2YNDI9l
Pizza Serving Trays
https://amzn.to/30BVzm2
Pizza Trays are infinitely useful whenever you are making several pies. I recommend buying in packs like this so you present a consistent experience.
https://amzn.to/30BVzm2
Digital Scale
https://amzn.to/3hrCuc2
A lightweight and durable food scale is essential to measuring accurate weights of ingredients and dough balls.
https://amzn.to/3hrCuc2
Dough Knives
Dough knives are essential to quickly cutting and weighing dough. I like to have a few of these on hand, especially a metal one and a flexible food-safe plastic one.
https://amzn.to/2AqAa4I
https://amzn.to/2MWqqSn
https://amzn.to/2MZjWlq
OXO Pizza Cutter
https://amzn.to/37slcHr
Pizza Cutters are pizza cutters, right? Nope. A good sharp blade and a comfortable handle will make a huge difference when you cut your pies. This OXO pizza cutter has a nice grip and sharp blade.
https://amzn.to/37slcHr
Pizza Cutter Rocker Blade
https://amzn.to/3fnrLgZ
A neat cutter that looks more like a Star Trek Klingon inspired Bat'leth though easy to cut straight lines in your pies.
https://amzn.to/3fnrLgZ
Aluminum Turning Peel
https://amzn.to/3e2LZwq
A lower priced alternative to the Ooni Turning Peel, which also happens to be in stock. This aluminum peel is worth having in your pizza making setup.
https://amzn.to/3e2LZwq
Tomatoes & Flour
Bianco DiNapoli Whole Peeled Organic Tomatoes
https://amzn.to/37BpZX6
If you are going to buy American tomatoes you should only think about Bianco DiNapoli tomatoes. I could rave about Bianco DiNapoli tomatoes for hours, they taste just as good as DOP certified Italian tomatoes, yet they are grown in California and a product of a partnership between Robert DiNapoli and famed Chef Chris Bianco of Pizzeria Bianco. Bianco DiNapoli tomatoes are amazing. You can buy in bulk or smaller cans based on availability.
https://amzn.to/37BpZX6
Antimo Caputo Semolina Flour
https://amzn.to/37uZWkn
Semolina flour is essential for easily sliding your pies from the peel into the oven. I like to compare Semolina flour to stainless steel ball bearings as they help your pies glide from surface to surface. Also allowing air to move beneath your dough, semolina adds a nice crunch to the bottom crust and sides of your pizzas.
https://amzn.to/37uZWkn
Antimo Caputo Pizzeria Double Zero 00 Flour
https://amzn.to/30GzjY1
I love this flour as it is perfect for Neapolitan Style Pizzas. 55 pounds may be a lot, though properly storing your flour and using for bread is also worth it.
https://amzn.to/30GzjY1